Hawk Expansion Pack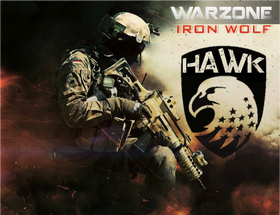 Game
Warzone: Iron Wolf
Platform
Playstation 3
Playstation 4
Xbox 360
Xbox One
Microsoft Windows
Mac OSX
Date Released
March 1st, 2016
Price
€12,59 EUR


$14,99 USD


£11,59 GBP
The Hawk expansion pack is the first downloadable content package made available for Warzone: Iron Wolf. It was released on March 1st, 2016 for Playstation 3, Playstation 4, Xbox 360, Xbox One, Microsoft Windows and Mac OSX. Season Pass holders received a preview on the Ferbuary 22nd and got to play the map Assembly earlier.
Hawk contains four multiplayer maps as well as a new primary multiplayer weapon. The four maps, Concourse, Fitness, Touchdown and Assembly, are based around cluster maps with much long range views to perform scout recon. The new multiplayer weapon, the Combat Bow, is a high-risk, high reward weapon for experienced players. All shots are silent and lethal from the waist up to the head. A shot in a leg causes the enemy to stumble further and lose speed, while a shot in the arm lowers weapon handling.
Ad blocker interference detected!
Wikia is a free-to-use site that makes money from advertising. We have a modified experience for viewers using ad blockers

Wikia is not accessible if you've made further modifications. Remove the custom ad blocker rule(s) and the page will load as expected.