Little Farm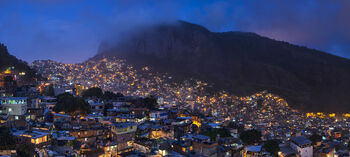 Game
War
Teams
United States Army vs Russian Ground Forces
Location
Rocinha, Rio de Janeiro, Brazil
Terrain
Multi-level Urban terrain
Type of Combat
Urban close and long range combat
Little Farm 
(Portuguese: Rochina) is a large multi-level close quarters map in
War
.
Set in one of the largest favelas in Brazil, Little Farm takes place during the night. The map focuses on close-quarter and long range engagements, on the ground floor, the narrow tight roads allow for minimal use of ground based vehicles and forces multi-level close quarter engagements. On the roof tops of Rochina, a mixture of close, mid and long range engagements can takes place, the multiple levels varies the gameplay drastically.
Continuity
Edit
Little Farm usually starts at the start of the battle, the buldings are all intact and the roads are congestied with civilian cars. Some gangs stay and attack both waring factions, killing gang members does not punish the player.
Dynamic Weather
Edit
Downpour
Ad blocker interference detected!
Wikia is a free-to-use site that makes money from advertising. We have a modified experience for viewers using ad blockers

Wikia is not accessible if you've made further modifications. Remove the custom ad blocker rule(s) and the page will load as expected.