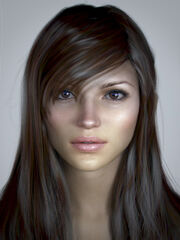 Character Creator 
is a feature in
The Long Road, 
allowing the player to create a unique character from the ground. 
The player is given a character upon starting the game, they can then choose their character's race, gender, appearance and name. This process is entirely based on the aesthetic aspect of character creation unlike character classes, players can edit facial and physical features in much greater detail or can choose a much simpler process which selects a random preset for the player.
Once players have completed customizing their character's appearance, they have to choose a class.
Customisation Options
Edit
Race: "Select one of three races from across the Verse" (Homo Rector, 
Gender: "Select your gender"  (Male or Female)
Appearance - "Players can customize a variety of aesthetic features" (Facial Structure, Body Strcuture, Skin Tone, Hair and Facial Hair)
Ad blocker interference detected!
Wikia is a free-to-use site that makes money from advertising. We have a modified experience for viewers using ad blockers

Wikia is not accessible if you've made further modifications. Remove the custom ad blocker rule(s) and the page will load as expected.