This is NINE100 Studios' Welcome to the Future presentation, as transcribed by 900bv. It took place on the 6th of February, 2015.
Introduction
Edit
Introduction by George Alder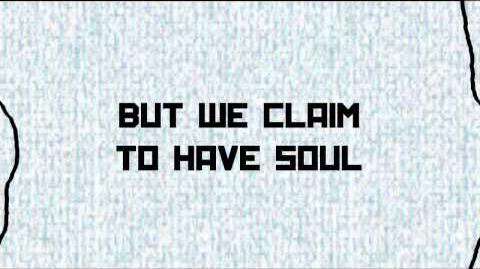 (The above video plays on the screen. George Alder then walks out onto the stage.)
George Alder: At NCS, our focus has always been to make the best possible games we could. We've brought you shooters such as Everwar: Black Widow and Warzone from DECA, music games such as Rock Heroes and everything in between. We've pushed graphical fidelity and performance as much as we can, and we always strive to innovate in places where people think the limit has been reached. We try to take creative risks as much as possible, and we don't limit ourselves to one genre, perspective, or ideology.
(The NCS logo appears on the screen.)
George: With that said, we've pushed the boundaries as far as we can with the current consoles on the market. There are things we want to do that would simply be impossible on any other platform, and we want to take more opportunities to not only improve development for us, but for many other developers. For the past couple of years, we have been working on a new project, something that will change the landscape of the current console market. Today, we would like to welcome you to the future, and introduce our next level gaming platform. This is the Anima.
Anima Reveal
Edit
Anima Reveal by George Alder
(The Anima logo appears on the screen.)
George: The Anima is our vision for the future of gaming. We have created what will be the most powerful gaming console on the market when it launches, and we will be looking a launching it at a reasonable price to be announced in the near future. We've also recognized the large hardware modding community, and the design of the console allows the shell to be easily removed and customized by pretty much everyone. With that said, I feel that it is time for your first look at the final production design for the Anima.
(George walks backstage.)
(Side and front views of the Anima appear on the screen and George walks back on with a physical Anima.)
George: What I am holding now is one of the first fully compiled Animas. In what we call a "Sea Blue" finish, this is pretty much the finalized console that we will be shipping ready for launch day. It has your standard power button, eject button and all those things you would hope for, but I'm not the hardware expert. For that, I will pass you over to the lead systems architect Brent Anderson.
(George walks backstage as Brent walks on.)
Hardware Specifications
Edit
Hardware Specifications by Brent Anderson
Brent Anderson: Hello everybody. As George mentioned my name is Brent Anderson, and I am the lead systems architect at NCS Engineering, the home of the Anima's creation. My job was essentially to design and co-ordinate all of hardware going into the Anima, so that's what I did. One of my main inspirations for the Anima's innards was the current PC gaming scene, and the super-powerful computers that some people are playing their games on. Based on that inspiration, we settled on the following final hardware.
(A chalkboard-style image appears on the screen. A CPU drawing and "3.4 GHz" are 'drawn' onto the image.)
Brent: Our CPU is completely custom, consisting of two dual-core modules totally four x86-64 cores clocking at just over 3.4GHz. The traditional x86 architecture will keep development simple for smaller developers, while also allowing for much stronger use by teams that know how to fully utilize it. We hope that the familiarity will encourage developers to create their games for Anima, and we wanted to make it as easy as possible.
(A GPU drawing and "Nvidia 1058MHz" are 'drawn' onto the image.)
Brent: For our GPU, we collaborated with one of the leading manufacturers of GPUs, and that is Nvidia. This unique processor has 2GB of memory and clocks at approximately 1058MHz, comparable to Nvidia's existing GeForce GTX 660, which is powerful and affordable. This GPU will allow for some exciting graphical effects and techniques, some of which we will be sharing in the next couple of hours.
(A RAM drawing and "16GB GDDR5" are 'drawn' onto the image.)
Brent: This is simple really. The Anima will contain 16GB of GDDR5 RAM, one of the most up-to-date types of random-access memory. We will be reserving 2GB of this RAM for the UI, which we will be talking about shortly. While we wanted to make sure the UI reservation was as small as possible, our discussions with current developers led us to believe that 14GB available to developers was more than enough.
(A Chip drawing and "Custom Secondary Chip" are 'drawn' onto the image.)
Brent: One more thing we are particularly excited about is our custom chip that will allow various background tasks to be performed during primary operations such as gameplay or video streaming. This includes gameplay capture, gameplay streaming and downloading, all of which can be done while doing something a bit more hardware-required. There will also be two power-off options available, fully off or standby. In standby, the secondary chip will still be receiving a minimal amount of power, which will let you download games without the console even being on.
(A Blu-ray Drive drawing, "Blu-ray", a Hard Drive drawing and "2TB" are 'drawn' onto the image.)
Brent: Coming to the final bits of important hardware, the Anima contains a blu-ray drive, which supports playback of DVDs and Blu-ray movies. Our hard drive, by standard, has a capacity of 2TB, although a small portion of this is reserved for necessary system data. However, the hard drive is fully replaceable, and we will be releasing a detailed tutorial around launch time.
(The chalkboard drawing fades out.)
Brent: Also, as George mentioned the outer casing is easily removable for easy modification. These will be the final hardware specifications for the console, and our talks with developers promise that it will help deliver you games of the highest quality. For now, though, hardware talk is over. Next I would like to talk a bit about our controller.
(An image of the Enaction 1 controller appears on the screen and Brent picks up a physical version.)
Brent: We call this the Enaction 1, and it has everything you'd expect from a controller. Four face buttons marked ABXY, a directional pad, two symmetrical analog sticks, two shoulder buttons and two shoulder triggers. We also have the options button, which speaks for itself really, and the home button, which will open the UI when pressed in-game, and can be held to get options such as turning off the controller or powering down the console. However, these are just the basic bits of the controller, as you can probably tell.
(The image on screen zooms in to highlight the touch pad.)
Brent: The most prominent nonstandard feature is the front touch pad. It has three basic inputs that developers are able to map to. You can swipe vertically and horizontally, touch it lightly and move around or press it down. We won't force any developers to make high use of any of this, but in our talks we've found out some cool little things that developers are planning to use the touch pad for, which we are really excited to see in action.
(The image on screen pans to highlight the relay button.)
Brent: The other feature we are particularly excited about is the relay button. Sharing your gameplay, taking screenshots and broadcasting your game has become very popular, and we want to encourage the players to continue doing so.
(Footage of a pretend, highly stylized first-person shooter plays on the screen.)
Brent: If you want to share some particularly good skills in a game, the Anima will always store the last 15 minutes of gameplay for you to save and share. You can also manually choose to start recording if you are creating a let's play or walkthrough. All videos are stored in 1080p HD and can be directly uploaded to YouTube or Facebook, or, if you want to edit your gameplay, can be copied to a USB device and transferred to your computer.
(Screenshots of various fake games appear on the screen.)
Brent: To take a screenshot, all you need to do is tap the relay button and it appears, ready to be saved. Now, we understand it's easy to miss those beautiful moments that pass by so quickly, so you are also able to go through the aforementioned 15 minutes of automatically stored video and capture the screenshot from there. All screenshots are saved as high definition PNGs, our favorite image file type.
(A fake broadcasting set-up appears on the screen.)
Brent: ...and, last but not least, game broadcasting. You want to stream your game? Press the relay button, select broadcast, select a broadcasting website, enter a stream name, share a link on Twitter or Facebook if you fancy, and then press start. You are now streaming your game. Obviously the quality of the stream will depend on your connection, and it will change dynamically based on your current upload speed. At launch, you will be able to stream via Twitch and Ustream, as well as Niconico in Japan. All in all, that's the Enaction 1. Next, I would like to move on to the software the Anima uses.
Software & Services
Edit
Software & Services by Brent Anderson/Zoey Cooper
Brent Anderson: The Anima runs on an operating system named the Corpus OS, which is a proprietary OS designed by an in-house team at NCS Engineering. It's completely custom and is designed specifically for the Anima, meaning that everything we wanted to implement could be implemented. As a user, however, yo wont be seeing much of the behind-the-scenes stuff, as all functions that are relevant to user are performed through what we call the Frontline Library, the UI of the Anima.
(An image of the Frontline Library appears on the screen.)
Brent: The Frontline Library is yours to customize. Choose one of the available themes, choose a different color if you want. You will also be able to import any image to act as the background. Your public profile can also be customized separately if you want, although by default it will match your home theme. We wanted to make sure you were in control of your public profile too, so you can select which bits of information about yourself are visible to others. You can also choose to highlight some of your media uploads to be immediately visible to anybody who visits your profile. Oh yeah, about connecting with other people.
(The Anima Grid logo appears on the screen.)
Brent: Our online service is named the Anima Grid, and is completely free to all users. Upon signing up to the Anima Grid, you will receive 50GB of cloud storage for saved application data, automatic updates for your games, the ability to purchase and download games from the Anima Store, as well as participate in online multiplayer at no additional cost. The Anima Grid also ties in with my next topic, Anima Achievements.
(An mocked-up image of unlocking an achievement appears on the screen.)
Brent: Our achievement system is simple. There are four levels of achievements that the player is able to get. Level 1 achievements are basic things, perhaps completing a level. Level 2 achievements are a little bit harder to get, maybe finding an amount of collectibles. Level 3 achievements are the hardest to get, such as completing the game on the hardest difficulty. We then have Level X achievements, which simply mean that you have got every other achievement available for the game.
(The previous images fades out.)
Brent: Alas, this is where my part in the reveal ends. We've discussed hardware and software, and now we would like to talk about the various services that will be available to the user at launch. For this, I would like to bring out Zoey Cooper, our third-party software manager. Thanks for your time everybody, I will see you again close to launch!
(Brent walks off as Zoey walks on.)
Zoey Cooper: Hello everyone. I'm Zoey, and as Brent mentioned I'm the third-party software manager at NCS Engineering. I'm basically responsible for bringing loads of different services to the Anima, and I'd like to start by talking about what we will have available at launch. Let's start with movies.
(Logos of the movie services available on Anima at launch appears on the screen.)
Zoey: Everyone loves a good movie, and on Anima you'll have a couple of services to choose from. We have Netflix, Amazon Instant Video, Epix, VUDU, Blinkbox and NowTV. All you need is your account for any of these services, and you are free to watch any movie you want. There is no additional cost to utilize these streaming services.
(Logos of the TV services available on Anima at launch appears on the screen.)
Zoey: How about television? We'll be offering Hulu Plus, HBO Go, Crunchyroll, Now TV, Sky Go, BBC iPlayer, ITV Player, 4oD and Demand 5. Obviously some of these are region specific, but you get the idea. Again, you only require your subscription to the applicable services to use them, and as before, there will be no additional cost to use them.
(Logos of the sports services available on Anima at launch appears on the screen.)
Zoey: We didn't forget about your favorite sports streaming services either. MLB.tv Premium, NBA Game Time, NFL Sunday Ticket, NHL GameCenter Live and the WWE Network will all be available for use at launch. It goes without saying, as it's what I've been saying over and over again, but all you need is your existing subscription and, of course, no added cost.
(Logos of the music services available on Anima at launch appears on the screen.)
Zoey: To finish up the talk about these common services, let's have some music. Spotify, TuneIn Radio and Qello Concerts will be there for you to use at launch. Don't worry, this will be the last time it will be mentioned. All you need is your existing subscription and, as you may have guessed, there is no added cost.
(TamaX and Reddit is Fun logos appear on the screen.)
Zoey: Now, you all know these services, but we have a couple of unique ones that you will be able to use. You may have heard of Tama, our little distribution services providing small bonuses for games that utilise it. For the Anima, we have created an application called TamaX, which will allow you to look at the objectives set for every Tama-enabled game you own, as well purchasing bonuses using your gathered Tama Points. Another service we are particularly happy about is an Anima version of Reddit is Fun, a Reddit client created by TalkLittle. We collaborated with them to create a dedicated Anima version, which you can browse to your heart's content.
(The Firefox logo appears on the screen.)
Zoey: It also may be worth mentioning that we have worked with Mozilla to create the best internet browser on any console. It's quick, and has a very high HTML compliance score, and we know this is the best you are going to get on a console. Our secondary chip also means you can use Firefox without having to leave your game, something we are quite happy with.
(The Firefox logo fades out.)
Zoey: With that, my talk on third-party software is over, but I have one more last thing to talk about. We are very excited about this innovation, and it's something the guys at NCS Engineering have put a lot of time into perfecting. This service will be available at launch, and will let you get into a game faster than ever.
NCS Velox
Edit
NCS Velox by Zoey Cooper

Zoey Cooper: We called it Velox. Velox is an instant gaming service that will allow you to stream one of various games immediately to your Anima. We obviously know that we will be making some of our first-party output available, and our third-party friends have expressed interest in adding their games to the service. We'll be announcing the first games coming to Velox in the lead-up to release.
(An image on the Anima store appears on the screen.)
Zoey: Velox is built into the Anima Store, and it is really quick to access a game. Access the Velox section, choose your game, done. There will also be three ways to pay for content. First is one-game rental, which allows you to get timed access to games. You will be able to purchase a day pass, a three-day pass or a week pass, with prices set by the publisher of the game. You can also purchase unlimited access to a game, again with a publisher-set price. The final option is what we'd imagine will be the go-to method for most users, and that is a monthly subscription service. A month of unlimited games will cost £9.99 in the United Kingdom, €12.99 in Europe and $14.99 in the United States. That's gets you access to every single game on Velox, to stream whenever you like.
(The image fades out.)
Zoey: Now, we want to stress that this wont eventually be the only way of playing on Anima. You will still be able to buy discs at retail, and you will still be able to download games to your console. Some people may choose to exclusively use Velox, and that's perfectly fine. Other people might get purchase a one-day rental for a game, see what they think of the first few hours or what they think of the multiplayer. This is all player choice, and nothing is forced. Also, if you use Velox, all your progress on a game can be used if you download the game or buy the disc. Oh yeah, you can get achievements too. Now, I'm sure you're all expecting some games, so I won't delay them any longer. Please welcome the Senior Vice President of Publisher & Developer Relations at NCS, Kara Statton.
(Zoey walks off the stage.)
Indies on Anima
Edit
Indies on Anima by Kara Statton
(Kara Statton walks onto the stage.)
Kara Statton: Wow, there are a lot of people here. Well, I'm Kara Statton, and as Zoey said I am the Senior Vice President of Publisher & Developer Relations at NCS. My job is to bring the best games to Anima, and one of my favorite parts of the gaming industry is the current indie scene. We've spoken with various indie developers over the course of developing the Anima, and a lot of them will be bringing their games to Anima. We're very excited to share with you the first big batch of indie games we have lined up for the Anima, and we have many more to come in the future. Please enjoy.
Kara: There were a lot of games in there, and I would like to take the time to go deeper into a few of them. Gods Will Be Watching is an intense point and click thriller from Deconstructeam and Devolver Digital. You'll need to set your morals aside to get through six increasingly harrowing chapters. There is no good or bad, only decisions you need to make. Let's take a further look.
Kara: The next game I would like to show you is from a one man studio based in Australia. Dylan Browne of Incandescent Imaging will be bringing his sci-fi horror game Caffeine to Anima, and it promises to be a frightening, but quirky story-driven, experience. In the near future, the earth has become addicted to coffee, and massive space stations roam the galaxy to mine minerals to create a synthetic caffeine. You take control of a young boy on an empty space stations, with no memory of what happened.
Kara: When I saw the tech demo for this final game early last year, I was blown away by the concept. Pillow Castle is a six-person team currently working on their first-person puzzle game Museum of Simulation Technology. It's really difficult to put why this game is so interesting into words, but essentially everything revolves around forced perspective. Just watch the trailer, it'll explain better than me.
Kara: Yeah it's gonna be tough getting your head around that. Well, that concludes my segment. Our third-party support will continue to get stronger, but it's now time to delve into our first-party output. However, we have a little announcement about our future output first. Thanks for listening to my segment, I've gotta get back to work!
(Kara walks off the stage.)
NCS Incubator Studios
Edit
NCS Incubator Studios by Steven Fowler
CoasterWerx
Edit
CoasterWerx Presentation by Russell Clarkson
Lady Red Presentation by Jessica Cheung
Code Zero
Edit
Code Zero Presentation by Drew Cassidy
Before Christ
Edit
Before Christ Presentation by Jonathan A. Reid
Incarnate: Paradigm-1
Edit
Incarnate: Paradigm-1 Presentation by Sienna Bowen
Dark Half
Edit
Dark Half Presentation by Owen Shane
Ad blocker interference detected!
Wikia is a free-to-use site that makes money from advertising. We have a modified experience for viewers using ad blockers

Wikia is not accessible if you've made further modifications. Remove the custom ad blocker rule(s) and the page will load as expected.