The FN Five-SeveN is a Belgian semi-automatic pistol.
Civilian Models
Edit
FN Five-SeveN MK2
Edit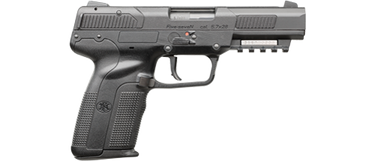 The Five-seven MK2 model was introduced in 2013, and is now the standard version of the Five-seven offered by FN Herstal. This new model has cocking serrations on the front of the slide, and has been reported to have a one-piece metal slide (under the polymer cover), whereas the previous models have a two-piece welded metal slide. There is apparently still a choice of fixed or adjustable sights: the model shown on FNH's site is a fixed-sight version; a model with adjustable sights was photographed at the 2013 SHOT show. The rear sight on the adjustable-sight version has also been changed, with beefed-up construction and white straight-edge sight references compared to the present three-dot target-style sights; these have been described as "combat adjustable sights".
FN Five-SeveN MK2

Game Title
Appears As
Mods
Notes
Release Date
Homeland
FN57 MK2
A variety of modifications and attachments are available. 
2016
Ad blocker interference detected!
Wikia is a free-to-use site that makes money from advertising. We have a modified experience for viewers using ad blockers

Wikia is not accessible if you've made further modifications. Remove the custom ad blocker rule(s) and the page will load as expected.